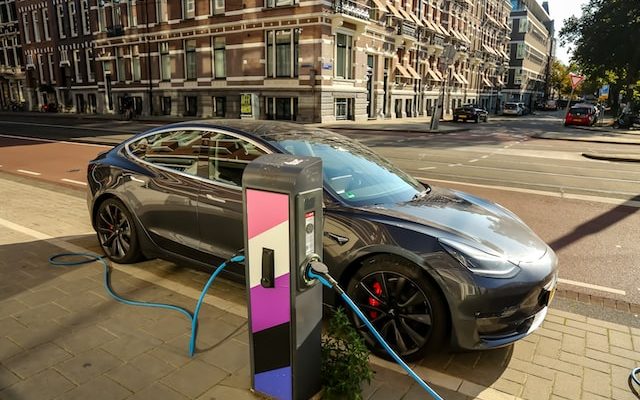 The benefits of using electric vehicles for business in New Zealand
Fleet Management
Businesses in New Zealand are always looking for ways to reduce costs and be more environmentally friendly. As they strive to become more sustainable, they are increasingly turning to lower emission transport options to get their employees from A to B. One way they can do this is by using electric vehicles (EVs). 
New Zealand's use of electric cars
About half of New Zealand's carbon emissions are related to transportation, with road travel accounting for the majority of these emissions. The spectrum of low-carbon transportation choices available to New Zealanders has expanded because of technological advancements such as increased battery range in EVs.
New Zealand is in an excellent position to benefit from EVs because:
More than 80% of the country's power comes from renewable sources and there is enough supply to support the mass adoption of

electric vehicles in NZ

.

More than

85% of our homes have off-street parking

, making home charging simple and practical.

Our typical commuting time and distance is easily managed by current EV batteries.

Great place to drive an EV
Our country is a terrific location to charge up since more than 80% of New Zealand's power is produced from renewable resources (wind, water, sun, and geothermal).
Since transportation accounts for around 20% of New Zealand's yearly emissions, switching to electric vehicles is one of the most significant ways the country can cut its emissions and dependency on fossil fuels.
Benefits of electric vehicles for businesses in New Zealand
With more and more businesses making the switch to electric vehicles, there are plenty of reasons to consider doing the same for your business.
Running costs
Electric vehicles are increasingly becoming popular for businesses looking for an environmentally friendly and cost-effective option. One of the most significant benefits of EVs is that they have much lower running costs than petrol or diesel vehicles. This is because EVs are powered by batteries, which are cheaper to charge compared to filling up with petrol or diesel. The cost of charging an EV will depend on the price of electricity, but it is typically much more affordable.
Several businesses are afraid that the marginally elevated cost of new electric vehicles would cancel out any possible savings in operating costs. Leasing can be a very efficient solution to mitigate the present premium you would pay for an EV because it spreads out the higher entry price over the course of the vehicle.
Emissions
EVs have far fewer emissions than fuel-powered cars since they don't produce any tailpipe emissions. Petrol and diesel car emissions are a significant source of air pollution, which has a number of harmful health impacts.
According to the Climate Change Commission, an EV driven in Aotearoa produces around 60% fewer emissions over the course of its whole life cycle than an equivalent fuel-powered vehicle. This remains the case even after accounting for emissions from the extraction, manufacture, and transportation of raw materials. This figure will increase as fossil fuels are phased out of energy production in New Zealand and as efforts are made globally to reduce emissions from EV supply chains.
Improve your business' reputation
EVs are becoming popular as people become more environmentally conscious. A business that switches to EVs will be seen as being at the forefront of this trend, and will be establishing itself as a brand that cares about the environment. 
Businesses making the switch to EVs showcase their commitment to sustainability and greener initiatives. This will boost employee engagement, strengthen customer loyalty, and make them more desirable to potential new hires.
Boost retention and happiness among employees
Employees will benefit from enhanced health and safety as a result of improved local air quality and decreased exposure to hazardous NO2 and other pollutants. By making on-site charging stations easily accessible, installing EV infrastructure, such as smart charging, may increase driver confidence, encouraging the adoption of EVs for both fleet and individual use.
Better route planning to cut down on travel time improves the experience for fleet drivers, which decreases commuting expenses, minimises the chance of breakdowns, and reduces anxiety. Compared to cars with internal combustion engines, electric vehicles have fewer moving parts, which means fewer breakdowns and more time on the road for drivers.
Lease rebates
If a lessor satisfies the eligibility requirements, businesses leasing electric vehicles may be eligible to receive a rebate even if they are not registered as owners. The acknowledgement of the lease agreement form must be completed by both the lessee and the lessor. The registration certificate will be sent via email from Waka Kotahi to the lessor, who may subsequently apply for the refund and attach the lessee acknowledgement form.
Making the switch to electric vehicles
Electric vehicles offer several benefits for businesses. They are more environmentally friendly and cost-effective than petrol or diesel vehicles, and they produce far fewer emissions. EVs are also becoming more popular, which can improve a business's reputation. Switching to EVs can also boost employee retention and happiness. Additionally, businesses that lease electric vehicles may be eligible for rebates.
The future of electric vehicles in New Zealand
The future of electric vehicles in New Zealand appears promising. With advances in technology and a growing awareness of the environmental benefits of electric vehicles, they will likely become increasingly popular in the years to come. There are already many electric vehicle charging stations around the country, and this infrastructure is only likely to grow as demand increases. Additionally, the NZ government has indicated its support for electric vehicles, intending to have all new cars and light commercial vehicles electric by 2030. With such strong support, it is clear that electric vehicles will play a significant role in NZ's future.
Contact SG Fleet today to learn more about how we can help your business on the road to zero-emission vehicles.

Driving Insights