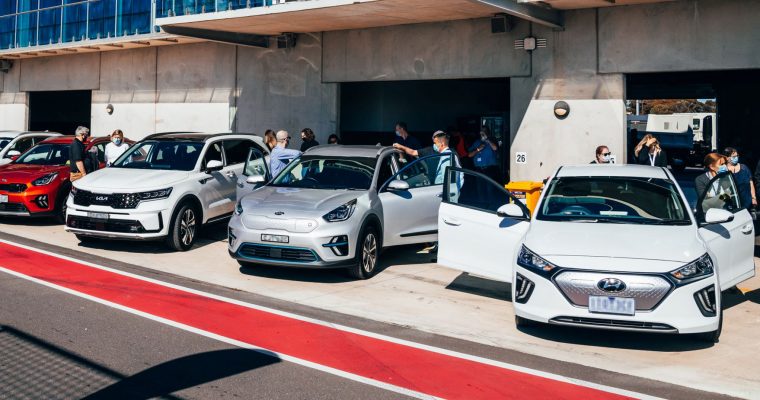 Combustion engines are rapidly becoming a piece of motoring history. With car makers signalling EV-only manufacture as soon as 2030, this could be in as few as two lease cycles for many organisations.
In the opinion of Lincoln De Kalb, Product Development Manager (Future Mobility) at SG Fleet, fleet managers should commence the process for shifting to EVs right now to avoid a costly and messy transition when electric vehicles are the only motoring options.
"There is no cookie cutter, one-size-fits-all approach for all drivers in an organisation. It does take time," admits De Kalb. "Planning now takes the pain out of the process and gives you time to trial different vehicles and work out what kinds of EVs will work best in your company."
Vehicle charging: At home or at work?
Forward-planning allows you get the jump on the important, specific aspects of going electric, such as the kind of charging infrastructure you'll need to keep your fleet on the road.
"It can be quite complex to think about what the charging strategy is going to be," explains Lincoln. "It's not just a case of rocking up to a service station and filling up. It's far more fragmented, and probably a little bit daunting when fleet managers start thinking about it."
For organisations fitting out their fleet with at-home charging stations, a number of questions arise, including some that still cannot be clearly answered without further direction from the government.
"What's the reimbursement and the tax treatments for home-based charging systems going to be?"
"What's the reimbursement and the tax treatments for home-based charging systems going to be?" Lincoln posits. "Are people renting? Do they have off-street parking? Do they want a charging station at home? Do their driving patterns mean they just have an extension lead in their garage and they top up overnight that way?"
Opting to invest in a workplace recharging infrastructure is also complex. Having started out on their own all-electric vehicle strategy at SG Fleet, Lincoln truly understands the challenges that come with getting a site ready to support workplace charging.
The upgrade of SG Fleet's offices required not just the necessary electrical engineering but also energy demand studies and switchboard upgrades. To add to the complexity, the work also required securing the building owner's approval, as a tenant of the space.
If your organisation has multiple sites, Lincoln suggests it's wise to take an incremental approach to getting your company ready to transition to electric vehicles.
As he advises, "You don't want to spend a huge amount of capital outlay in electrifying all the sites. It's better to take a planning approach and go, 'Okay, we're going to electrify these three sites here because they're the cheapest in terms of the electrical remediation work that needs to be done. Then how does that flow onto the leases and the vehicles and the drivers? All the different steps are quite interwoven."
Involve your entire business in the EV process
Transitioning your business to an electric fleet is a project that goes way beyond that of just the fleet manager. A strong advocate for designing cross-functional teams, Lincoln cites an often-overlooked part of implementing an EV fleet – change management – as one of many reasons why going electric extends beyond the responsibility of the fleet manager.
"Within every organisation you're going to have people that really want electric vehicles and are happy to take them on now – the early adopters," Lincoln says. "And then, you're going to have people that don't necessarily want to. Maybe they like their petrol vehicles? Or they're concerned about range anxiety? This is a classic example of where you need HR involved."
He suggests taking time to think about ways to get staff on-board with the change and address their objections, the same as you would with any other major project for changing the way your organisation does business. Who will be your project champions? How will you disseminate tips and information on maximising range and minimising charging times? All of these types of things need to be woven into an overall workplace change management strategy.
Insights: the importance of data and metrics 
As we've outlined, there is no one approach to establishing and maintaining a fleet of EVs. Because of this reality, having access to data and analytics is a crucial component for making good decisions when preparing to go electric.
"Driver usage patterns will influence how your business utilises charging stations, so you really need to have micro level detail,"
"Driver usage patterns will influence how your business utilises charging stations, so you really need to have micro level detail," Lincoln explains. "It's not worth looking at a car and going, "Okay, they've done 20,000 kilometres per annum, because that could be lots of little trips, or it could be a whole bunch of really big trips. Depending on driver usage patterns depends on what the charging strategy's going to be."
"If it's lots and lots of little trips," he continues, "perhaps they can just top up overnight? If it's longer trips, then a little bit more planning needs to be involved. For instance, where are they going? Are there charging stations available on route or at the destination?"
"It's important to get that driver-level detail and then run through the at-home charging considerations I mentioned before – are they renting? Do they own the place? Is there off-street parking?"
Additionally, this type of driver detail is essential in helping any organisation understand the infrastructure they'll need for the efficient day-to-day running of your fleet; what Lincoln describes as "data around state of charge".
"You don't want to book out an electric vehicle and then find its only got 10% battery life left in it – you want to book out a car that's 80% full if you've got a longer trip. So, understanding the state of charge of the vehicle is important in making sure you're utilising the charging stations you own."
"Early on, there was a view that you needed a one-to-one charging station to car ratio, but the reality is it's probably higher," he confesses. "In our fleet, I think it's roughly one [charging station] to four [cars], and the charging stations we have here are still not fully utilised, so we know that we can put on more electric vehicles without having to spend more money on charging stations."
In terms of solutions, the intelligence platform designed by SG Fleet has been engineered to provide intelligence on the utilisation rates of charging stations. This means that fleet managers and facilities managers can see the necessary information and make intelligent decisions about when they put in another charge station, versus the number of EVs coming into the fleet.
What is eStart? 
SG Fleet's eStart is a readiness planning program that can help businesses of all sizes transition from internal combustion vehicles to EVs, and it draws on our learnt experiences to overcome the different nuances and pain points we've seen other organisations encounter.
As well as providing a guide for switching to EVs it provides our customers with certainty and a reassuring, guiding hand.
"In the last six months the conversation with customers has moved from, "What are EVs?" to, "How do I get EVs?" And that's been a fundamental shift in the conversations," says DeKalb.
"There's a lot of unknowns for customers when we start off, so bit by bit, we find the right answers with them. We ask questions about things like driver patterns, the employee situation, and iterate through the process, so it becomes clearer."
In conclusion
Transitioning your organisation from combustion engines to EVs is a big step. From building your business case to getting the electrical infrastructure organised and then making vital decisions around the charging strategy, your organisation could be looking at a project that stretches from 12 to 18 months to fully complete. And that's even before factoring in COVID-related manufacturing delays.
For companies thinking about introducing electric vehicles into their fleet in 12 to 24 months, Lincoln De Kalb says the time for planning is right now. "It's not just about ordering cars – there's a lot to think about."
Ask us how eStart can get your business EV-ready and start the transition of your fleet to electric.

Driving Insights