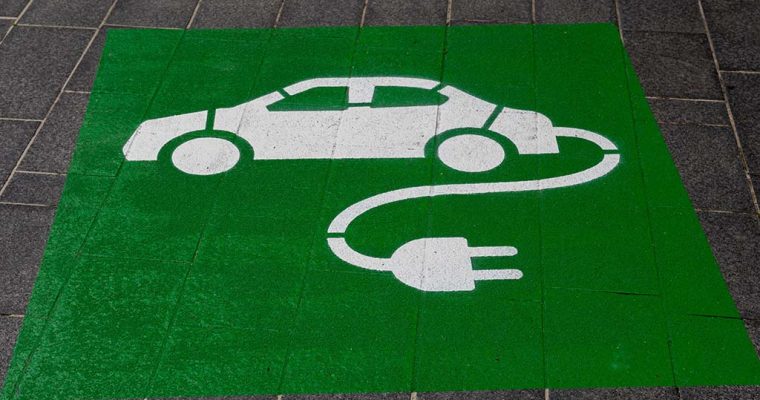 By Andrew Maclean
The pace of development for new electric cars is running at such a rapid rate that it could outpace Usain Bolt.
In the six months since we published the rundown of 'what's new in 2022' in terms of EVs, there's been even more news on the fresh battery-powered newcomers that are headed for New Zealand showrooms within the next 12 months.
So, let's peer over the horizon and see what's coming.
BMW iX1
The German brand is set to introduce the iX1 in 2023, a fully electric version of the third generation X1 compact SUV.
The company has revealed it will be offered initially in xDrive30e configuration with a twin-motor set-up that delivers 230kW of power and 494Nm of torque with a 65kWh battery pack which provides an estimated driving range of between 412-438km.
It is expected to undercut the larger iX3 which costs from $114,900, while a single-motor, front-drive model could also be on the cards with a more affordable entry point.
BMW i7
At the other end of the model line-up, BMW has revealed its flagship electric vehicle, the i7 limousine.
Due to arrive in New Zealand before the end of 2022, the futuristic sedan – complete with an optional 31-inch theatre touchscreen that drops down from the roof for back seat occupants – is powered by two electric motors that produce a combined output of 400kW/765Nm with a 101.7kWh battery pack that delivers an estimated 625km of driving range.
Cupra Tavascan
We spoke about the arrival of Cupra – a performance-focused sub-brand of the Volkswagen group – to New Zealand earlier this year, with the Ateca and Formentor SUVs now on-sale and set to be followed by the Leon hot hatch and the Born EV over the next 12 months.
Since then, Cupra has revealed the next models in its expansion plan with the Tavascan and Terramar SUVs and the Urban Rebel city car concept.
The Tavascan is a sleek battery-powered mid-sized SUV that uses the same underpinnings as the VW ID.4 and Skoda Enyaq iV that are already on sale in Europe. While Cupra has yet to confirm any specifications, it is expected to feature a dual motor set-up with at least 225kW and a 77kWh battery with more than 400km of range.
The Terramar features a more conventional SUV body style and is based on the Audi Q3. It will be offered with a plug-in hybrid powertrain that is capable of driving more than 100km on battery power alone.
Even though Cupra says the UrbanRebel is a concept, it is an evolution of a previous show car that is clearly closer to production.
It features recycled plastics and bio-based materials as an extension of its eco-friendliness and is powered by a single electric motor driving the front wheels. It is expected to be offered in both standard and performance versions when it launches in 2024, with the former offering upto 500km of driving range while the latter will be a lightning quick little hot hatch.
Hyundai Ioniq 6
The South Korean brand recently revealed the next model in its all-electric Ioniq sub brand, the aerodynamic Ioniq 6 Streamliner.
The sleek four-door sedan will join the retro-futuristic Ioniq 5 hatch in New Zealand showrooms early next year and aims to muscle in on the popularity of the Tesla Model 3 as one of the most efficient EVs to date.
Hyundai claims the teardrop-shaped body has class-leading aerodynamics that help to lower power consumption. In it most efficient configuration – a single motor variant with a 77kWh battery riding on 18-inch wheels – Hyundai says the Ioniq 6 uses 14kWh/100km and can travel more than 600km on a single charge.
Because it uses the same mechanical underpinnings as the Ioniq 5, it will also be offered with a dual motor set-up in higher grade models as well as a smaller 53kWh battery in entry-level variants.
Hyundai expects the Ioniq 6 will cost around the same as the Ioniq 5, which is available with the option of either standard and long-range battery packs and three model trims – the entry-level Ioniq 5, mid-spec  Elite and flagship Limited – with prices starting at $79,990.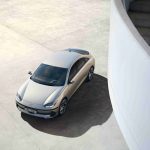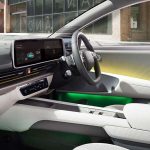 Lexus RZ450e
Lexus has taken inspiration from Tesla for its second battery-electric vehicle, the RZ 450e, which – like the new Model S from the American car maker – features an aircraft-style yoke rather than a conventional steering wheel.
But that's about it, as you wouldn't mistake the RZ 540e for anything other than a Lexus thanks to the hard-cut angles on its SUV body style.
Underneath, the high-riding five-door has a twin-motor configuration with a combined output of 230kW and 435Nm while a 71.4kWh battery provides a driving range of 400km on a single charge.
It is expected to go on-sale in New Zealand early in 2023.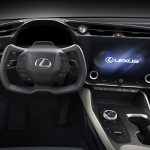 Mercedes EQE and EQS AMG
It was inevitable that Mercedes' performance division, AMG, would adopt the powers of electrification at some point.
And that time is now, as the go-fast brand renowned for burly V8 and V12-powered muscle cars has put its stamp on the mainstream versions of the new EQE and EQS luxury sedans.
The former is a mid-sized executive sedan that will be sold in Australia as the EQE 53 4Matic+ with upgraded electric motors and a new, higher voltage battery that delivers a whopping 460kW and 950Nm – more power and torque than the E63 S with its 450kW and 850Nm 4.0-litre twin-turbo V8.
But that's not all, as Mercedes-AMG has developed an optional Dynamic Plus package with an exclusive Race Start mode that temporarily boosts outputs to 505kW and 1000Nm. That results in the EQE 53 being able to slingshot from 0-100km/h in 3.3 seconds, just a blink of an eye slower than the fastest Mercedes ever, the $5million F1-powered AMG One hypercar.
Similar to the relationship between the regular E-Class and S-Class models, the EQS 53 4Matic+ is slighty larger and more opulent inside the cabin, including a completely digital dashboard with a 1.41-metre-wide touch screen.
It is also fractionally more powerful, with the two electric motors producing a combined output of 484kW and 950Nm in standard guise and 560kW and 1020Nm with the optional Dynamic Plus pack. And it has a larger 107.8kWh battery – bigger than any other EV currently on sale in Australia – that can deliver 587km of driving range.
The EQS 53 4Matic+ is in New Zealand showrooms now priced from $310,900 (plus on-roads) with the EQE 53 4Matic+ due to arrive before the end of the year.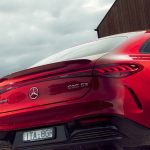 Nissan Ariya
Nissan was an early pioneer of the modern electric car with its Leaf hatchback, which was – before the Tesla Model S really took off – the world's best-selling EV.
Surprisingly, it's taken the Japanese brand more than decade to build on the Leaf's success and introduce its second electric car, the Ariya.
Due to launch in New Zealand in 2023, the stylish five-seat SUV has been designed from the ground up as a dedicated battery-powered vehicle and is expected to be available with either a single-motor or twin-motor configuration and with standard-range (63kWh) and long-range (87kWh) battery packs.
In its most efficient guise, the Ariya can travel up to 610km on a single charge.
Pricing, specifications and launch timings have yet to be confirmed by Nissan, but it is expected to arrive by mid 2023 and cost from around $90,000.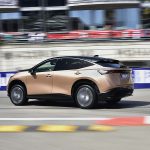 Subaru Solterra
Subaru has confirmed that it will join the electric car revolution with its Solterra EV due to launch in New Zealand from next year.
As it did with the BRZ/86 sports coupes, Subaru has co-developed the Solterra with Toyota alongside its oddly named bZ4X; the two vehicles sharing the same fundamental underpinnings aas well as body panels and are only differentiated by subtle styling changes.
The Solterra is a five-seat, five-door mid-sized SUV that sits between the company's popular Forester and Outback models in terms of overall size.
Under the skin, it is powered by two 80kW electric motors and features a 71.4kWh battery pack that can provide up to 460km of driving range.
Subaru has freighted an example to New Zealand to gauge feedback from customers ahead of its arrival in early 2023, and claims to have received "thousands" of expressions of interest already.
Toyota bZ4X
Strangely for Toyota, which has long been been the poster child for electrified mobility with its hybrid strategy led by the groundbreaking Prius, it will be fashionably late to the full EV party with its bZ4X SUV when it arrives in New Zealand next year.
As mentioned above, the bZ4X has been built alongside the Subaru Solterra and shares the same platform and body panels.
But while Subaru will only offer the Solterra with a twin motor configuration (in line with its all-wheel drive philosophy), Toyota is set to undercut its rival with an entry level front-drive version with a 150kW electric motor.
Highlighting Toyota's reputation for reliability, the bZ4X is already on sale in overseas markets with 10 years of warranty coverage for the battery that guarantees it will retain 90 percent of its storage capacity over that period of time. That is significantly longer than most other EVs on sale, which have up to eight year warranties that guarantee 70 percent storage.
However, Toyota NZ has yet to confirm whether that will be offered locally yet.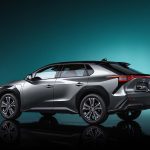 VW ID.Buzz
The iconic Volkswagen Kombi has been re-born as a modern electric vehicle with the ID.Buzz.
As the latest member of VW's growing ID family of dedicated EVs, which will start arriving in Australia from late next year with the ID.4 and ID.5 SUVs, the ID.Buzz brings a retro-inspired yet practical, five-seat people mover to the market.
It will also be available as a light commercial vehicle with the ID.Buzz Cargo.
Both share the same extended wheelbase platform and will be powered by a rear-mounted 150kW electric motor with a 77kWh battery pack and is the first VW with Vehicle-to-Grid (V2G) bi-directional charging that can send power back into the electricity grid.
Don't expect the ID.Buzz to be available locally until 2024 at the earliest due to demand from key markets in Europe and the US.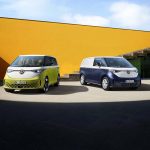 With so many new EVs being revealed in the last six months, the move towards electric mobility has hit fast forward. With that, we can only expect there will be even more in the second half of 2022.
Don't wait too long to plan your transition to electric vehicles. Talk to SG Fleet to make sure your business isn't left behind.

Driving Insights