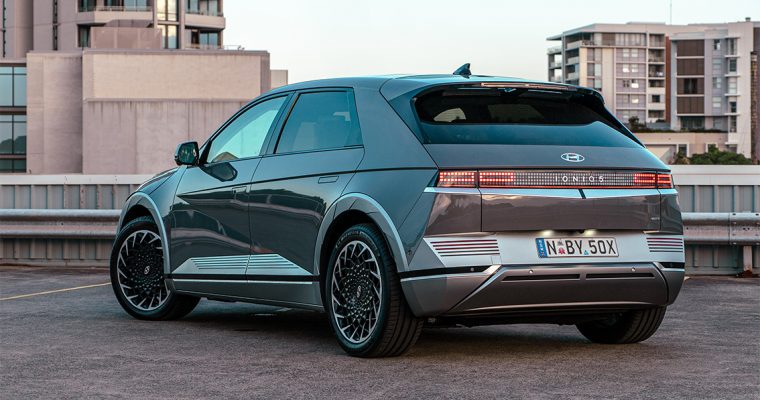 By Andrew Maclean
To quote the iconic voice of Formula One, Murray Walker, "catching is one thing, but passing is another".
That is as true on the racetracks as it is now on the road in the race to lead the electric car into the future.
Tesla, the independent American start-up, undeniably got a flying start and has held an unassailable advantage in this new-age titanic tussle for over almost a decade, chalking up victories in the boardroom, its showrooms and, as it is now the most valuable car maker planet, also on the stock market.
Truth be told, it has been a bit of a one-horse race. But Tesla now has some serious challengers, including Hyundai which has rapidly accelerated development of its electric car programs to become a genuine contender.
Hyundai electric vehicles
It kicked off its assault with the Prius-rivalling Ioniq hatchback and an electric version of its Kona small SUV a few years back, and now it plans to produce 23 EVs by the end of 2025. While the Ioniq hatch hasn't been a huge sales success, the badge has been promoted to become Hyundai's dedicated EV sub-brand, just as Genesis morphed from a single limousine into its luxury division.
The first model to arrive as a dedicated Ioniq model is this, the Hyundai Ioniq 5, a retro-futuristic hatch-cum-SUV that takes aim at the Tesla Model 3.
The Hyundai Ioniq 5

Available in New Zealand in three variants that are defined by their powertrain configurations – two single-motor rear-wheel drive versions and a dual-motor all-wheel drive flagship – the Ioniq 5 marries its concept car-like exterior design with cutting edge battery technology and the latest in safety.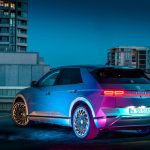 Power
The entry-level model, which is only offered in the Elite trim level, has a 58kWh battery while the mid-grade and flagship HTRAC versions, which can be had in Elite or Limited specifications, use a 72.6kWh Lithium-Ion polymer battery. All are capable of 800V ultra rapid charging and offer Vehicle to Load functionality that allows it to be used as a portable power source, including the ability to recharge other electric vehicles.
The entry-level model has a single, rear-mounted electric motor that produces 125kW of power and 350Nm of torque, driving the rear wheels through a single-speed reduction gear transmission, the mid-grade model has the same configuration but gets a more powerful 160kW rear motor while the range-topping HTRAC has an additional front-mounted electric motor delivering an extra 70kW/250Nm for a combined output of 225kW and 605Nm.
In terms of performance, the base model has up to 370km of driving range, the mid-grade has 451km and the HTRAC saps a bit more energy for a total driving range of 430km.
None live up to Hyundai's cheap-and-cheerful past reputation, with a starting price of $79,990 for the 58kWh model in Elite specification and topping out at $112,990 for the HTRAC Limited.
But those that buy the entry-level model are eligible for the NZ government's new Clean Car program, which provides an $8625 rebate for all new EVs sold under $80,000 before March 2022.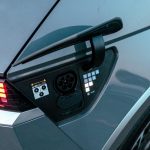 Charging
All feature a 10.5kW onboard inverter and use a CCS2 Type 2 charging plug, meaning they can be recharged using the broadest choice of power sources, from a standard household plug, optional wall box charger, and all public charging stations up to Ultra Rapid 350kW capacities.
When using a 22kW AC charger, the Ioniq 5's battery can be fully replenished in 6 hours and 6 min. The time drops significantly, to just under one hour, with a 50kW DC charger. But, as only the second vehicle on-sale in Australia with 800V ultra-rapid charging ability – the other being the Porsche Taycan – the Ioniq 5 can be fully recharged in around 17 minutes when using a 350kW station. A quick five-minute top-up can provide up to 100km of range.
Both models utilise Hyundai's new dedicated electric car architecture (dubbed E-GMP) that positions the battery low in the chassis to form a skateboard-like platform.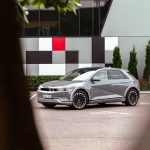 Dimensions
Despite its chiselled hatchback style, the Ioniq 5 is deceptively large. It measures 4635mm in overall length, is 1860mm wide and 1605mm tall – making it around the same physical size as Hyundai's mid-sized SUV, the Tucson. But, with the compact electric motors allowing for the front and rear axles to pushed closer to the extremities of the vehicle, it rides on a 3000mm wheelbase that is longer than its full-size SUV, the Santa Fe.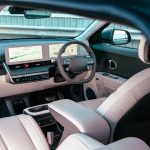 Cabin
What that means is the Ioniq has a Tardis-like cabin, with a huge amount of interior space for five adults to travel comfortably, as well as a cavernous 527L of cargo carrying capacity in the boot. Plus another 57L (or 24L in AWD form) in the front trunk.
The skateboard platform also eliminates any notion of a transmission tunnel running through the cabin, so there's a completely flat floor and masses of storage spaces inside, including a huge centre console big enough to fit a large handbag without compromising the driver or passenger.
Making the cabin even more comfortable, the rear seats are heated and can be electrically adjusted to create either more legroom or boot space. But the front pews are even fancier, and can be reclined – complete with a lower leg rest – to replicate a business class airline seat, allowing for a power nap when recharging.
Adding to the Ioniq 5's eco credentials, all the interior materials are made from sustainable or recycled materials and the leather has been processed using dyes made from flaxseed oils.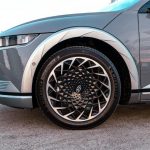 Accessories
Apart from the powertrain configuration differences, Elite models feature cloth trim, 19-inch alloy wheels and a standard audio system while Limited models have 20-inch alloys, leather interior trim and a premium Bose audio system, among other upgrades.
All variants however include twin 12.3-inch digital displays, dual-zone climate control, sat nav, Bluetooth and smartphone mirroring for Apple and Android devices.
They also come with a comprehensive suite of advanced safety functions, including automated emergency braking, lane keeping and lane change assistance, blind spot collision avoidance, front and rear cross traffic collision avoidance, smart cruise control with machine learning and a 360-degree view parking monitor.
The ride
As for how it drives, the Ioniq 5 HTRAC is as impressive as it looks. Once you get used to the column-mounted gear controller – and rotating it forward for Drive, downwards for reverse and pressing the button on the end for Park – it is simple, seamless, and serene to drive.
In the default Normal mode, it effortlessly moves away from a standstill with nice and linear acceleration and is amazingly quiet at cruising speeds.
Knock it back to Eco mode, and it is noticeably restrained, switching to a softer throttle map and using the rear motor only, to use less energy and extend the driving. It's the total opposite in Sport mode however, as the Ioniq 5 feels toey with instantaneous acceleration even when you lightly brush the accelerator pedal.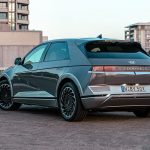 Summary
No matter which mode, the fundamental basics are pretty spot on. There's excellent vision through the expansive glasshouse, steering is nicely weighted – if a little artificial in its feedback – and the suspension offers a decent balance between comfort and handling. In saying that, it can't quite mask the hefty 2100kg kerb weight when pushed through a corner, and the heavy wheels can slap into sharp edged bumps and oscillate over corrugations.
If there's anything to fault, there's a few ergonomic drawbacks to the interior design. The steering wheel diameter feels a little too small and, without much telescopic adjustment, the rim can obscure the digital speedo on the rectangular instrument display, and activating anything on the far left hand side of the entertainment screen is fair old reach and pulls the driver's torso out of the support from the seat.
Otherwise, Hyundai has charged into the leading pack in the race to move the electric car into the mainstream. The Ioniq 5 might look and drive like something out of the future, but it is here today. And here for good.
If you're looking at transitioning to electric mobility in the future, contact SG Fleet / LeasePlan for more information.

Driving Insights