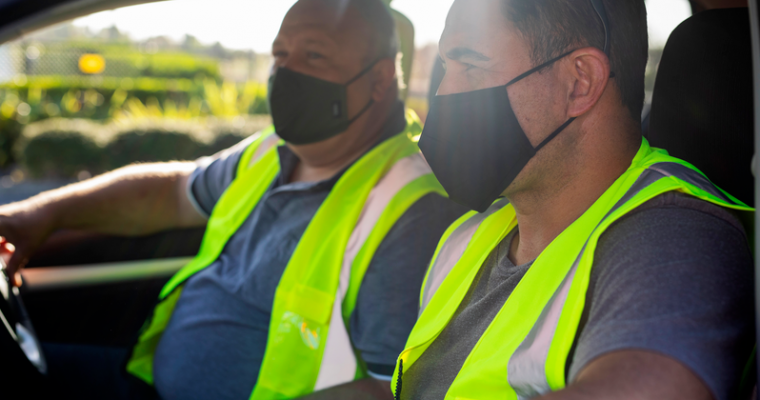 Be safe as business starts moving again
Driver
As lockdowns in Auckland, New Zealand's biggest city, gradually lift, essentially one third of the nation will be getting back to work and moving around after a long period of drastically reduced mobility. Traffic levels will increase significantly, with drivers who are not used to congestion.
Aggregated data collected by Apple based on route requests in the Auckland region via Apple Maps provides a handy visual representation of the relationship between traffic volumes and COVID lockdowns (see below).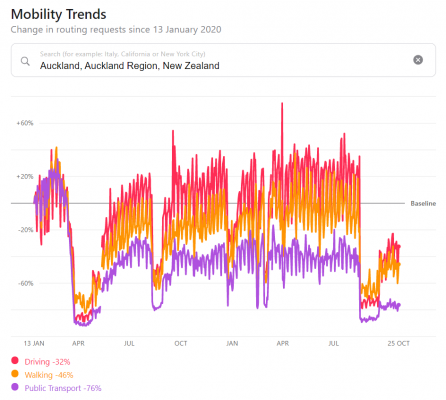 For some road users and commuters, the coming months could well be their first time back on the roads outside of weekend or holiday travel for quite some time.
In getting ready to return to work and getting back on the road, it's worthwhile taking some time to make sure you and your drivers jump behind the wheel again with a safety-focused frame of mind.
Considerations for employers and fleet managers
When it comes to cars, vans and trucks used for work purposes, you need to remember that every one of those vehicles is a workplace. Accordingly, it's the responsibility of a fleet manager to ensure, every time an employee gets behind the wheel, that 'office' is a safe place.
With more of your vehicle users returning to the roads, you should be taking the temperature of your fleet's overall condition and state of readiness. Part of your fleet may have been on the road, with the other half furloughed, or your entire fleet might be starting to move again with the end of restrictions.
For fleet managers – or anyone responsible for fleets for that matter – this is an excellent opportunity to brush up on the policies and procedures of your organisation. It might also be worthwhile performing an extensive review so, at the very least, you have COVID-compliant policies in place that match today's expectations and health guidelines, not those of a year ago.
No matter what state or territory you're operating in, or how heavily your fleet has been impacted by COVID restrictions, this is also an ideal opportunity to check that your fleet remains fit-for-purpose. Your industry may be exposed to significant changes in the way you work because of COVID health orders. If so, do you still have the right mix of vehicles to get the job done as safely and as efficiently as possible?  Fit-for-purpose considerations not only add up to better-performing fleets but go together with ensuring safety protocols are sufficiently up-to-par.
It's also important to see this as an opportunity to do a Chain of Responsibility (CoR) audit. How many vehicles in your fleet are due for, or nearing, a scheduled service? How many vehicles in your fleet are nearing the end of their agreements, and will you be able to replace your vehicles in time if there are any COVID-driven manufacturing or import delays? Is your telematics system using the latest software version or does it require an upgrade?
Considerations for employees and drivers
Managing safety in the workplace isn't solely the responsibility of your manager or employer; everyone within an organisation has a role to play in minimising accidents and injuries. If you're heading back to work and getting back behind the wheel as part of your work, take the time to reset and refresh the way you drive.
Firstly, ensure the vehicle you use is in the proper condition. If it's your responsibility, get the vehicle serviced and, if it hasn't been attended to for a while, take steps to ensure a scheduled service is carried out as soon as possible. Likewise, if your employer handles servicing schedules, take some time to check this has been carried out. If it hasn't, start a conversation about making it a priority.
Secondly, check if a COVID-safe plan for fleet or company vehicle use has been implemented during lockdown. If one has been implemented, take it upon yourself to understand your obligations and responsibilities.
There are also some other actions you can bear in mind to make sure you're ready to hit the road (safely) in a work capacity once again:
Fatigue is a major contributor to road trauma, vehicle collisions and other accidents, so never get behind the wheel unless you are well-rested. Remember, a person who has been awake for more than 17 hours is just as likely to be involved in a crash as a driver blowing over 0.05 in a random breath test.
Speed – just like fatigue – plays a huge role in accidents on our nation's roads. Research shows that even small decreases in speed can lead to a reduction in road trauma. Data collected by the NHMRC Road Accident Research Unit at the University of Adelaide found that the chance of being involved in an accident doubles for every five kilometres per-hour a vehicle travels at over 60 kilometres per hour. Conversely, wiping five kilometres per-hour off your speed will result in an overall 15 percent decrease in crashes.
Mobile phones are the primary cause of distractions behind the wheel. A Queensland University of Technology study found that using a mobile phone while behind the wheel can worsen a driver's reaction time by almost 50 percent.
While you're re-acquainting yourself with driving, take a moment or two to go into your phone settings and temporarily disable messages and alerts while you're on the road. You can turn them back on when you arrive at your destination.
In conclusion
As Auckland begins to experience the lifting of restrictions and many of us head back into our workplaces, taking some time to make sure anyone responsible for a motor vehicle has a safety-focused attitude will go a long way in ensuring post-lockdown is a happy time for us all.
The checks and balances of safety may feel like a drag but, given the length of our lockdowns and the breaking of good (and bad) habits, we can't rest on our laurels. It's the small things that make the difference between life and death. Literally.

Driving Insights