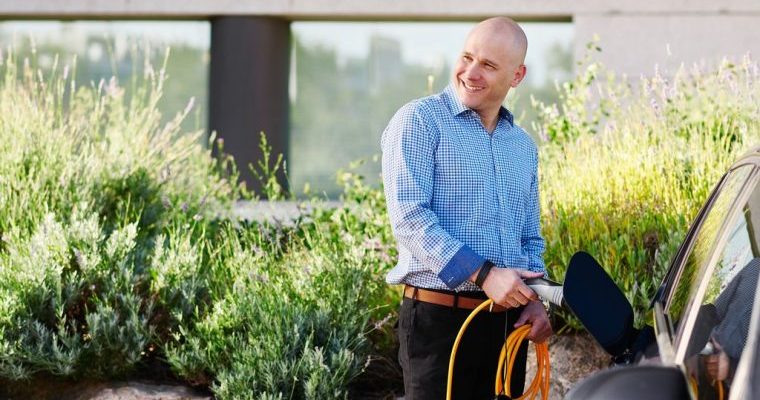 Ways to reduce your fleet's emissions and help the world go green
Fleet Management
Despite remaining resistance to the reality of climate change, the consensus around the world is that greener is better. And fleet managers can play their part by reducing your fleet's CO2 emissions.
Given the trend for "going green" and growing consensus that we need to move away from fossil fuels, it's not surprising that many people across the planet are targeting zero exhaust emissions by 2030. Transport is the fastest growing contributor to climate change after all.
In NZ road transport is responsible for about 20% of greenhouse gas emission — not great but not bad given that transport produces a third of greenhouse gas emissions in the USA. The current challenge NZ faces when it comes to reducing transport-related  emissions is our ongoing love affair with utes and SUVs. A challenge that fleet managers can help with…
Making your fleet more environmentally friendly
Adopting sustainable fleet management measures can have a real impact. In fact, SG Fleet / LeasePlan believe organisations can reduce their CO2 emissions by as much as 40% over a four-year period.
How? Easy — implement these simple changes to your fleet strategy:
Reassess who is eligible for a company vehicle — only staff who need a car for business purposes should get one.
Encourage people who are eligible to choose hybrid vehicles or full electric vehicles (EVs).
Buy fuel-efficient vehicles that are fit for purpose — don't exceed your actual size, weight, torque and payload requirements.
Encourage staff who only require a car every now and again to use public transport or book a pool-car, which should be an EV or hybrid.
Use fuel cards and telematics to monitor individual vehicles' fuel or electricity consumption, mileage, and CO2 emissions.
Upskill your drivers on optimising their driving style, vehicle loads, tyre pressures and journey planning.
Explore ways you can make more use of public transport and sharing vehicle journeys, as a company.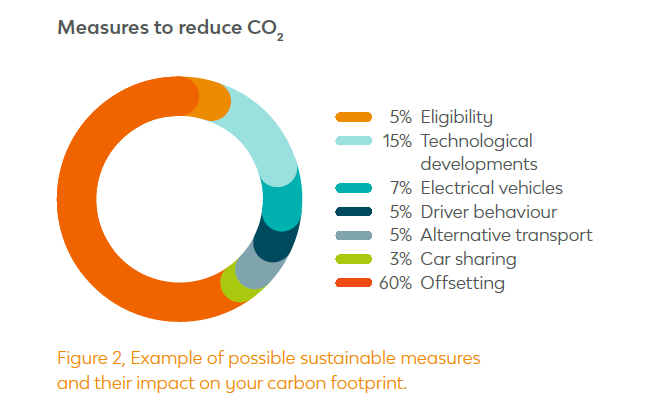 Implement these measures and you can reduce your corporate environment footprint by up to 40%.  These things aren't costly or difficult and they're likely to offer associated fleet cost savings.
Getting beyond the 40% by offsetting vehicle emissions
With EVs unlikely to be the norm for some time, it will take time to tackle the remaining 60%. But there is a way to go beyond 40%. Look at offsetting your emissions.
The concept of reducing your net emissions by doing something that reduces CO2 in the environment isn't new. New Zealand has had an emissions trading scheme for some time and it's been possible to buy carbon credits with airline tickets for a while.
You don't have to wait for the emissions trading scheme to become effective to start reducing your fleets carbon footprint though.
Traditionally offsetting emissions has been about buying carbon credits offered through planting trees. But there are many ways to reduce your net emissions.
Why not consider supporting for a project designed to reduce emission of greenhouse gas, such as a wind farm, renewable energy project, initiative to reduce agricultural emissions, etc.
Three key things to do that will reduce your fleet's emissions
As a fleet manager, there are three key ways to significantly reduce your fleet's carbon footprint. All of which could also offer mobility cost savings, depending on the nature of your fleet. We encourage you to seriously consider making these changes:
Define stricter car allocation criteria
Make your vehicle selection as green as possible
Encourage emission-conscious driving and strive for optimal fuel consumption.
You might be surprised how easy it is to get your whole organisation on board given that being greener is more and more seen as a positive.
For more information on how your fleet can contribute to the Net Zero Emission target, download the Sustainable fleet management white paper.
To speak with someone about improving your fleet's efficiency and reducing its emissions, contact us.

Driving Insights