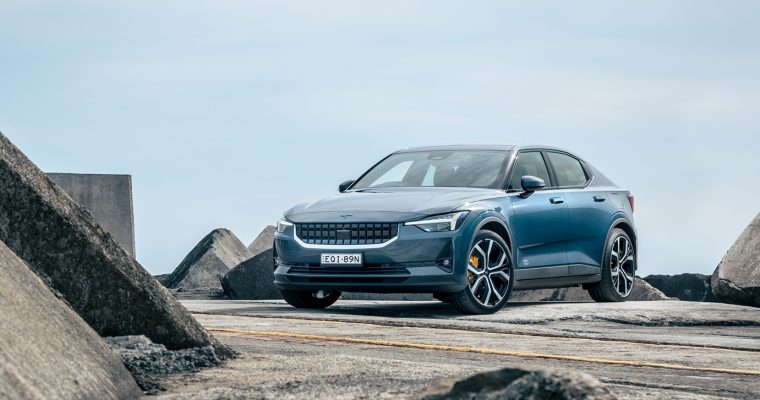 By Andrew Maclean
Can Volvo's dedicated EV brand take on Tesla?
Tesla has been a pioneer of the electric car age, forcing the mainstream automotive industry into a game of catch-me-if-you-can.
And, the rogue American start-up just might have been nabbed with this, the Polestar 2, the first fully electric vehicle from Volvo's dedicated battery-powered offshoot.
The Tesla Model 3 has quickly established itself as the country's most popular EV on the strength of its space, style, technology, affordability and – most importantly – its driving range.
But the Polestar 2 is a match for it in almost every aspect.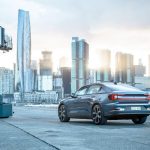 Pricing
Like the Model 3 we receive in New Zealand, the Polestar 2 is built in China and is available in three model grades that are defined by how far – or fast – it can travel.
Prices start at $69,900 for the entry-level Standard Range Single Motor variant with a 69kWh battery pack.
For an extra $9,000 you can upgrade the battery pack to 79kWh in the mid-spec Long Range Single Motor. Both single motor variants are eligible for the full $8,625 rebate under the government's Clean Car Discount scheme.
Or – if you want the full monty – you can pay $93,900 (plus on-roads) for the flagship Long Range Dual Motor, which not only has the larger battery pack but, as the name suggests, has a twin-motor configuration.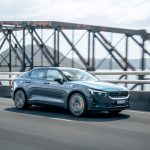 Performance
Both single motor variants produce 170kW and 300Nm from the front-mounted electric motor and can accelerate from 0-100km/h in 7.4 seconds.
With the smaller battery pack, the Standard Range can travel up to 470km on a single charge and, when using a 130kW charger, the battery can be replenished between 10-80 percent in around 35 minutes.
The bigger battery has the ability to cope with a higher 150kW charging rate but, because of its extra capacity, takes the same time to re-fill.
With the single motor, it can travel up to 540km on a single charge, while the Dual Motor model – which naturally has increased performance, with 300kW and 600Nm – saps a little more energy and has a rated driving range of 480km.
In any case, all of the Polestar 2 variants offer enough range to cover the majority of New Zealanders on their average commute to work and back for a full week, as well as greater flexibility for long-distance travel.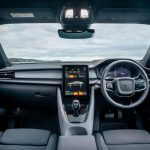 Cabin
All three models come fitted with a generous list of standard equipment, including dual-zone climate control air conditioning, electric seats, vegan interior trim and an eight-speaker 250W premium audio system.
The Polestar 2 is also the first vehicle to use a fully integrated Android Auto operating system for its digital interface. That means that both the 12.3-inch instrument cluster and the 11-inch central tablet offer the functionality of a mobile phone, including an in-built Google Assistant that can be used as a voice-operated concierge.
Occupants can use simple commands to control myriad of functions, from checking the weather, navigating to a destination, searching for and playing music and reading and dictating messages.
The system also uses Google Maps as the native navigation platform, which means road and destination is always up to date, and users have access to the Google Play store to download apps and customise the experience.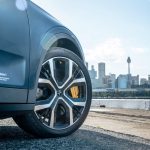 Options
Our test car – a range-topping Dual Motor model – was also fitted with all three optional packages that Polestar has packaged together.
Available on both single motor versions, it featured the Plus Pack and Pilot Pack. The former adds even more luxuries to the classy cabin, including a full-length glass sunroof, high-quality Harmon Kardon audio system, beautiful Weavetech interior trim with black ash wood panels and heated front and rear seats and steering wheel. The latter further improves on the comprehensive suite of standard safety systems, with the addition of adaptive cruise control, a 360-degree camera, blind spot monitoring with steering assist, rear collision warning and cross traffic alerts with brake support.
Exclusive to the dual motor model, the Performance Pack adds lightweight forged alloy 20-inch wheels with bespoke Continental Sport Contact6 tyres, gold four-piston front Brembo brake callipers and adjustable Ohlins dual-flow valve suspension dampers.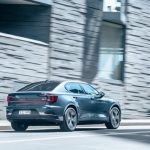 Driving
So, what does all that mean when it comes to the driving experience? Well, like most EVs, the Polestar 2 is silent and seamless when on the move with instant acceleration and massive torque on tap.
But it can take time to become familiar driving with just one pedal. That's because the Polestar 2 can generate up to 100kW of regenerative power when braking, which essentially replenishes the battery with free fuel uses the electric motors to slow down. That means you only need to use the traditional brake pedal in emergency situations only.
Otherwise, it's a normal – and very pleasant – car to drive with a great driving position, comfortable and supportive front seats and plenty of smart storage solutions throughout the cabin.
There's also heaps of space in the back, and generous cargo carrying capacity in the boot.
The Polestar 2 also handles well thanks to its low centre of gravity and the upgraded Performance Pack enhances its performance enough to be a fun car to punt along a twisty road.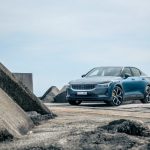 Summary
At the end of the day, this car thoroughly lives up to the Polestar nameplate as a guiding light for electric vehicles. And, in my opinion, it's definitely nabbed Tesla at its own game.
Polestar 2 Specifications
Model: Long Range Dual Motor
Price: $93,900 (plus options)
Engine: Twin electric motors
Battery: 78kWh
Power: 300kW
Torque: 600Nm
Range: 480km
Charging rate: 150kW
Charging time: 35min (10-80%)
If you're looking at moving to electric, contact SG Fleet / LeasePlan for more information

Driving Insights