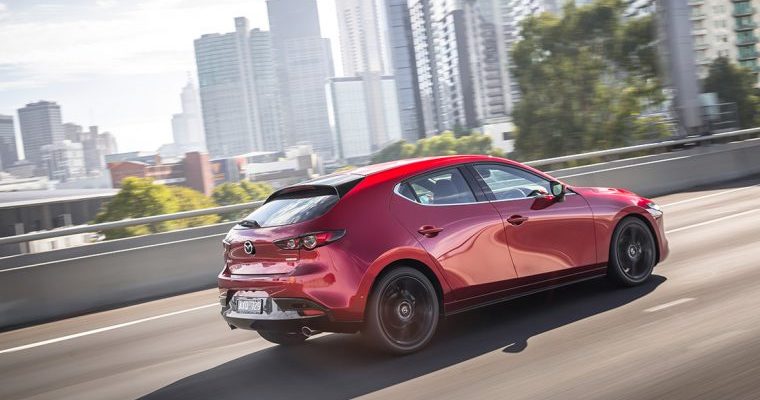 Mazda3 SkyActiv-X review
Driver
By Andrew Maclean
Just when we all thought the petrol engine was heading for extinction
Just when we all thought the petrol engine was heading for extinction, Mazda has developed an innovative solution that could nurture it enough to provide a new lease on life.
While it ultimately might not be enough to prevent it from the meteorite of electric cars that will likely rule the planet in decades to come, the Japanese brand has mutated the petrol engine in a way that makes it cleaner, leaner and more efficient than ever before without compromising performance or everyday driveability.
Under what Mazda calls SkyActiv-X technology, and now available in the latest-generation Mazda3 hatch and sedan, the petrol engine has what is known as Spark Controlled Compression Ignition which combines the best attributes of an economical diesel-like combustion cycle with the power and performance of a lean-burning conventional petrol engine, with the net result being a significant improvement in fuel consumption.
How it works?
A diesel engine operates by igniting the fuel under extreme compression, which generally means it achieves maximum energy from each explosion and can therefore use less fuel for a bigger bang. The downside is that most diesel engines are noisier, less refined and cannot rev as high as petrol engines. And without a turbo charger – which is rare these days anyway – they don't produce a lot of power.
A conventional petrol engine, on the other hand, uses a spark plug, generally located at the top of the combustion chamber, to ignite the fuel. And because of its location, even with advanced fuel injection systems, the explosion isn't as consistent and sometimes not every joule of fuel is actually burnt which is wasting energy and increasing harmful emissions.
So what Mazda has done is take the best bits from each and stitch them together – while also linking the engine with a mild hybrid system and a 24-volt lithium-ion battery for even greater efficiency – which makes the technology more affordable, lighter and (slightly) less complex than a battery-powered hybrid. It also takes up no more room under the bonnet than a normal engine, so there are no compromises to storage space.
Essentially, the SkyActiv-X engine – a fairly normal 2.0-litre naturally-aspirated four-cylinder – operates at low engine speeds by injecting a fine-spray of fuel into each cylinder on the intake stroke followed by another small ball of fuel, pointed directly at the spark plug on the compression stroke. Like a golf ball squashing into a sponge, when the spark plug ignites the richer mixture at the top the finer, lower layer of fuel is so heavily compressed that it rapidly combusts like a diesel engine and creates a more uniform explosion. What that means is it requires less fuel to produce the equivalent amount of power and subsequently improves overall economy.
The trickery extends to the fact that under heavy acceleration and at high engine speeds, where the pressure loads of the compression ignition cycle would be too immense for long-term reliability, the engine seamlessly switches to a conventional spark ignition cycle.
What do you get?
At the moment, the SkyActiv-X engine is exclusively available in the range-topping Mazda3 Takami, which cost $51,995 (drive away), but the technology will be spread further across the Mazda range, starting with the CX-30 small SUV that arrives in New Zealand showrooms soon.
For the same money, you can choose between either the bold five-door hatchback (as tested here) or the sleek four-door sedan, both of which come with a six-speed manual as standard or an optional six-speed automatic and drive the front wheels.
While the body styles are different, they share an identical level of standard equipment that includes leather interior trim with heated front seats, dual-zone air conditioning, a part-digital instrument cluster and a widescreen dash-mounted display with sat nav, Bluetooth and smartphone mirroring for Apple and Android mobile devices.
There's a full suite of active safety features too, such as automated emergency braking, active cruise control, blind spot detection, lane keeping assistance, front and rear cross-traffic warnings and a 360-degree reverse camera.
What's it like to drive?
While it's difficult to explain precisely how the SkyActiv-X technology works, it doesn't require any modification to your behaviour in order to reap its benefits as it drives just like any other normal car.
With the engine producing 132kW of power and 224Nm of torque, it feels zippy around town and engaging and fun to drive through the twisty stuff and yet is even more leisurely out on the open road than any conventional alternative.
It doesn't sound any different to a normal petrol engine either and it is just as refined with nothing noticeable in the way it switches between the two different combustion techniques. If anything, it feels stronger than a similar-sized petrol engine at low engine speeds with more immediate urgency, making it more effortless to drive in heavy traffic and over long distances.
The integrated starter motor hybrid system, which switches off the engine when stopped at traffic lights and adds a small battery-powered boost when getting going again, operates seamlessly and further enhances the fuel-saving measures.
Speaking of which, Mazda claims the SkyActiv-X Takami consumes an average of 5.3L/100km with the manual transmission (and 5.5L/100km with the automatic), which it says is around 10 percent more efficient than a conventional petrol engine of the same capacity. It's not that hard to match that figure if you regularly mix steady-state highway cruising into your everyday driving behaviour, but expect to see returns between 6-7L/100km – which is still a reasonable result – if you mainly drive in built-up areas.
As for the rest of the package, the latest-generation Mazda3 is a classy little machine. The interior quality is a step beyond the mainstream and verges on offering a genuine European-level of luxury and refinement. The dashboard's minimalistic design is both stylish and easy to use with simple controls for the ventilation and clear instruments in front of the driver, while Mazda's latest infotainment interface is significantly better to navigate through its functionality.
The front seats are super comfortable with plenty of adjustment to suit a wide variety of drivers, but the hatchback's swooping exterior design does compromise the comfort of those in the back with the high window line making the rear space feel tighter than it is while also introducing massive blind spots in rearward vision for the driver.
Verdict
The Mazda3 was already a benchmark within the small hatchback segment – remaining one of the more popular passenger cars – and the introduction of the SkyActiv-X engine improves on its position, even though the fuel-saving technology is restricted to those willing to pay a premium for the flagship model.
There's no doubt it works, and the benefits are real, but is it a big enough leap to save the petrol engine from extinction? Probably not – at least on its own – but when Mazda moves forward and links SkyActiv-X to proper plug-in powertrains it will create the ultimate hybrid, blending the best of battery, petrol and diesel power together.
Specifications
2020 Mazda3 Takami Hatch
Price: From $51,995 (drive away)
Engine: 2.0-litre four-cylinder
Power: 132kW/224Nm
Transmission: Six-speed manual (or automatic) transmission
Fuel consumption: 5.3L/100km (man) / 5.5L/100km (auto)

Driving Insights