Genesis Electrified G80 Review
Driver
By Andrew Maclean
It's not easy going green.
Big businesses aiming for smaller carbon footprints need a broad view of ways to reduce emission outputs, all the way up to the corner offices and their fleet of large, luxurious company cars.
Thankfully, there is a new battalion of battery-powered limousines marching into showrooms, including the Genesis Electrified G80.
Genesis, for those that might not know, is Hyundai's luxury sub-brand in much the same way Lexus is to Toyota. And the G80 is its flagship sedan; a traditional four-door, five-seat, three-box saloon to rival established players such as the BMW 5-Series, Mercedes-Benz E-Class, Audi A6 and Lexus' ES.
The Genesis range is currently not available in New Zealand, but Hyundai is evaluating its arrival in the near future as an all-electric luxury brand that would be spearheaded by the Electrified G80 sedan alongside the GV70 SUV and GV60 that uses the same dedicated EV platform as the Hyundai Ioniq 5.
The trio are set to be joined by even more battery-powered models as Hyundai and Genesis have outlined plans to launch 17 new electric cars before 2030.
Price and Specifications
As a reference, the Genesis Electrified G80 costs $145,000 in Australia, which makes it the most affordable in a small group of mid-sized luxury electric sedans as it undercuts rivals such as the Porsche Taycan and Mercedes-Benz EQE.
It comes fully loaded with a long list of standard features that includes bio-processed Nappa leather interior trim, heated and ventilated electrically adjustable front seats with massage functions, three-zone climate control, a digital instrument cluster with 3D graphics and a 14.5-inch widescreen digital display that incorporates sat. nav. with augmented reality instructions, smartphone mirroring and a high-quality 20-speaker Lexicon audio system with DAB+ digital radio.
Back seat occupants aren't short changed either, with heating on both outboard pews, separate temperature control and two 9.2-inch digital displays on the back of the head rests for rear-seat entertainment.
In terms of safety, the G80 is right at the cutting edge and comes with a comprehensive array of advanced driver aids, including autonomous emergency braking, blind spot collision avoidance, lane keeping assistance, rear cross traffic collision avoidance, safe exit assistance and an advanced cruise control with machine learning. This system essentially records the driver's inputs and will mimic their driving behaviour when cruise control is activated in order to feel as seamless as possible.
It also has what Genesis calls Road Preview Electronic Suspension, which uses a forward-facing camera in the windscreen to scan the road ahead looking for speedbumps, potholes and any other irregularities, and then pre-emptively adjusts the suspension settings to improve the ride quality for a more comfortable driving experience.
Under the bonnet
In place of a petrol engine, the Electrified G80 is powered by two electric motors – one on the front axle and one of the rear axle – with a combined output of 272kW and 700Nm, which is comparable to the 279kW and 530Nm produced by the 3.5-litre twin-turbo V6 in the G80 3.5T.
It also provides all-wheel drive traction, and the ability to sprint from 0-100km/h in under five seconds.
The motors are delivered electricity from an 87.2kWh lithium-ion battery pack with a driving range of 520km and 400V/800V high-speed charging that allow it to be replenished between 10-80 percent in less than 25 minutes when using a high-voltage ultra-rapid charger.
Uniquely, the G80 also features solar panels on the roof that can top-up the battery with a little more electricity when the vehicle is left in the sunlight, and it has what is called Vehicle to Load technology. This means the car can be a portable power source, allowing users to plug-in household electrical appliances in the event of a blackout or recharge devices such as e-bikes, scooters and even other electric vehicles that may be stranded.
Genesis provides Australian owners with the choice of either a five-year Chargefox subscription or the installation of a home charger as part of the purchase, on top of free maintenance and a valet service for the duration of the five-year, unlimited kilometre warranty, as well as 10 years of roadside assistance and an eight-year guarantee on the battery pack.
What's it like to drive
It doesn't take very long to realise that the future of luxury motoring is electrified.
That's because all the luxurious attributes you want are better in an electric car.
For starters, the electric motors provide effortless performance by delivering instantaneous torque followed a seamless surge of power. This not only makes navigating the hustle and bustle of busy traffic more enjoyable, but, because you only need to use one pedal with regenerative braking, also easier.
They are also smooth and quiet. And Genesis adds another level of serenity to the driving experience with active noise cancelling technology that blocks out even more of the outside world.
In fact, it's so comfortable and simple to drive that you wouldn't even know it's an electric car. Even the regenerative braking has a more natural feel in the way it decelerates than other electric cars.
Sure, it feels heavy (because it weighs more than 2.3 tonnes) in the corners, but it also feels solid and secure with excellent body control and positive steering.
It's a very nice car to drive, but an equally beautiful machine to be driven in. The seats are comfortable with plenty of adjustment, although the driver's seat could sit a little lower to counteract the fact the solar powered roof compromises head room for front seat occupants.
But that's not a problem for those in the back, who are treated to ample space and extra creature comforts like an electronic blind on the rear windscreen for more privacy and the crisp entertainment displays on the back of the headrests.
All said, the Genesis Electrified G80 provides undeniable proof that the future of luxury motoring is electrified.
It makes so much sense. It is extremely comfortable to drive, the electric drivetrain is smooth, effortless and quiet yet also powerful and responsive and it provides decent driving range with the ability to recharge quickly.
More importantly, it counters the price premium with low running costs and Genesis has re-set the benchmark for ownership credentials and customer service.
It is an excellent example of leadership that should be appealing to executives when choosing their next company car.
If you're interested in moving to electric, contact SG Fleet today for more information.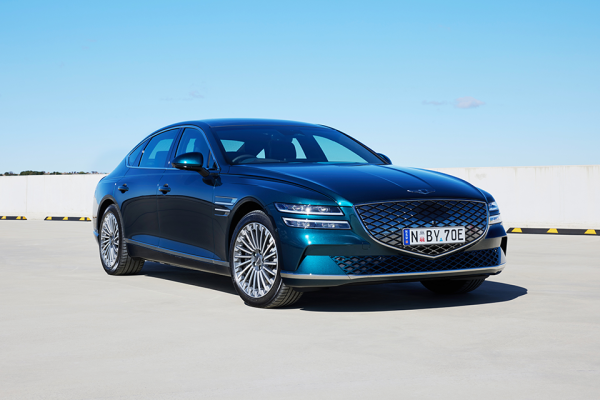 Driving Insights